Trump's real popularity in the swing states is -2%
2020.10.27
Trump's real popularity?
Minus 2 % in the key swing states!
if Americans can vote NO
NVA Press Release 2020.10.24
A RAND Corp survey showed a 3.4% increase in voter participation in the twelve swing states if people have the choice to vote AGAINST a candidate. Moreover, Biden's lead over Trump would widen from 8.6% to 12.6% in these states. Trump would receive a net negative vote of -2.0%.
Under the current mode of election, where voters do not have the option to vote AGAINST a candidate, the survey showed Biden has a comfortable lead of 8.6% over Trump (44.9% vs. 36.3%,)
The above findings further substantiate the core belief of the Negative Vote Association*, a non-partisan NGO dedicated to the improvement of democracy. The Association advocates that having the option to vote NO is a fundamental voter right, and that having this option will increase voter participation, improve all democracies, and can reduce the influence of extremists.
RAND survey results**
12 Swing States (Colorado, Florida, Iowa, Michigan, Minnesota, Nevada, New Hampshire, North Carolina, Ohio, Pennsylvania, Virginia, Wisconsin)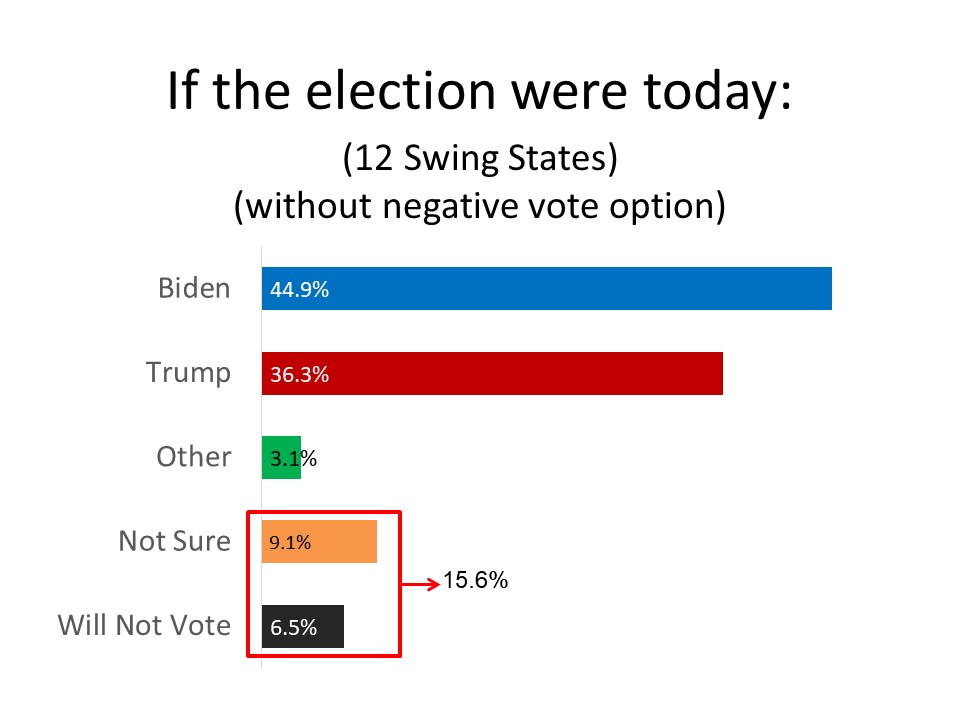 If voters have the option to vote AGAINST a candidate, Biden would receive 10.6% net positive votes and Trump would have 2.0 percentage points more votes AGAINST him than FOR him.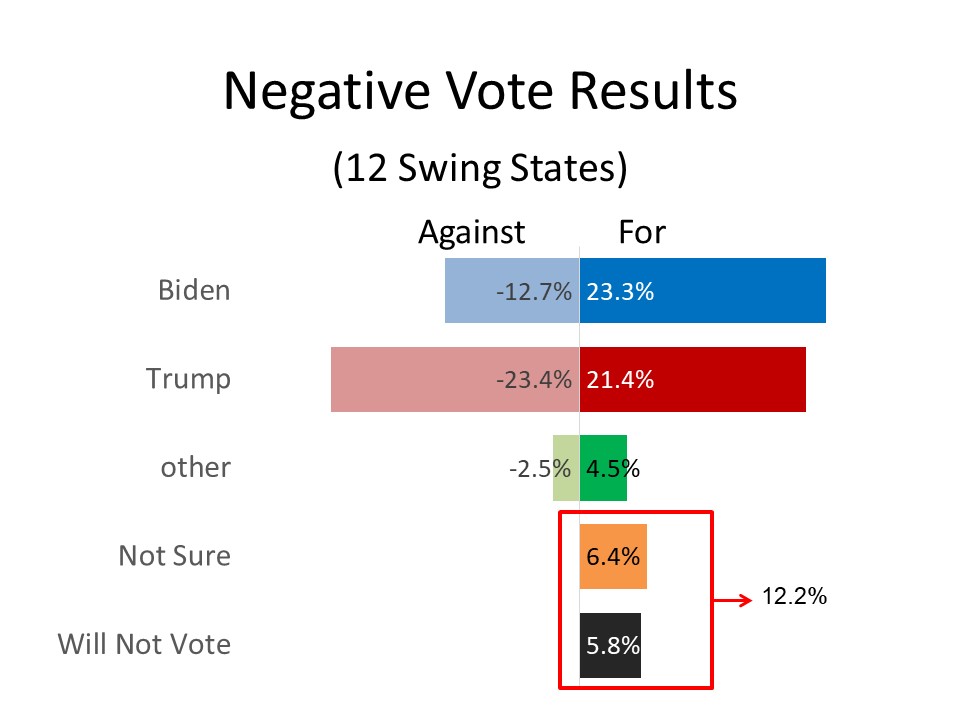 The national survey results showed 9.7% higher voter participation compared to 2016. "Will not Vote" was 16.7% in 2016 vs 7.0% this year. It also showed Biden's lead over Trump would widen from 13.8% to 14.9% if the option to vote NO is available. A similar survey in 2016 showed the 4.4% gap between Clinton and Trump would widen significantly to 7.0% if Negative Vote were available.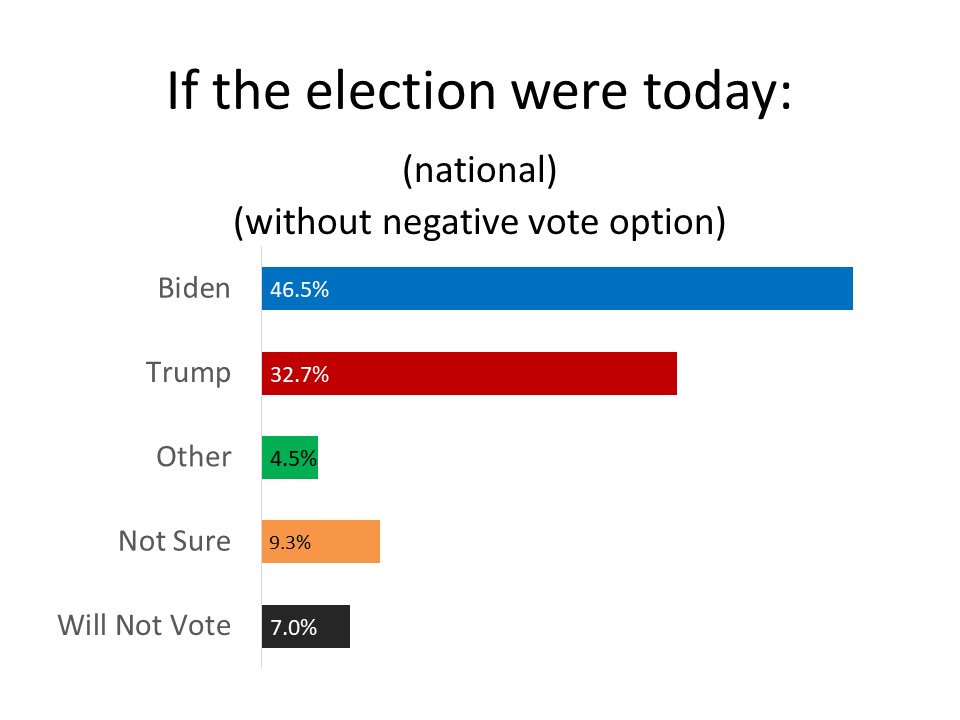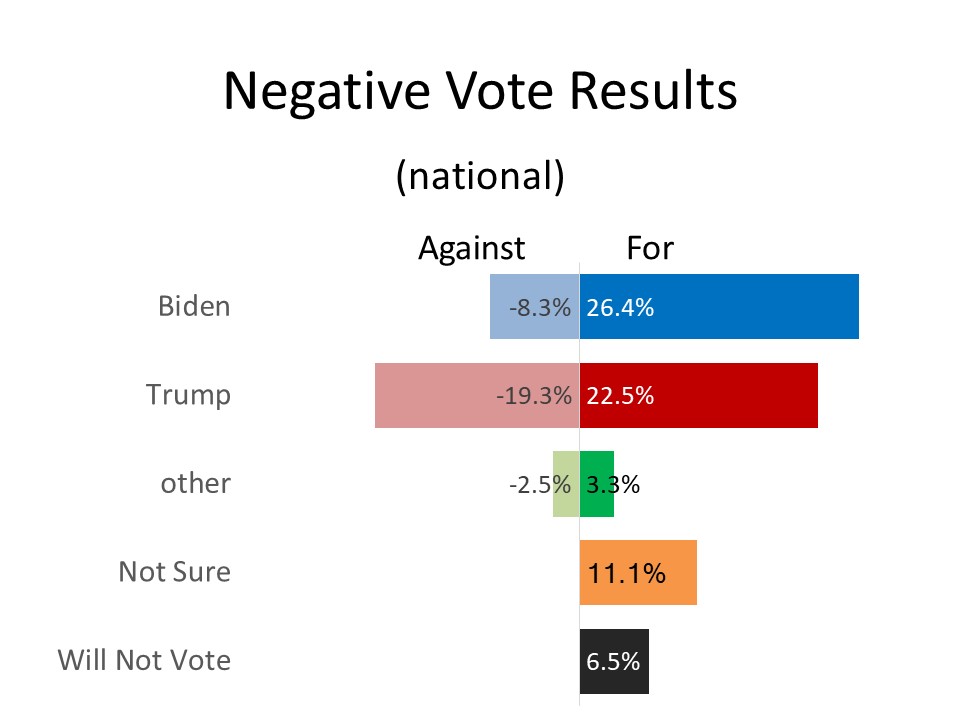 Increased willingness to vote
We also asked voters: "Would having the "Negative Vote" option affect your willingness to vote?" As expected, most voters 61.0% reported it would make no difference, but a very high 17.6% reported it would increase their willingness to vote, while a small 6.5% reported having this choice would reduce their willingness to vote. 14.8% said not sure.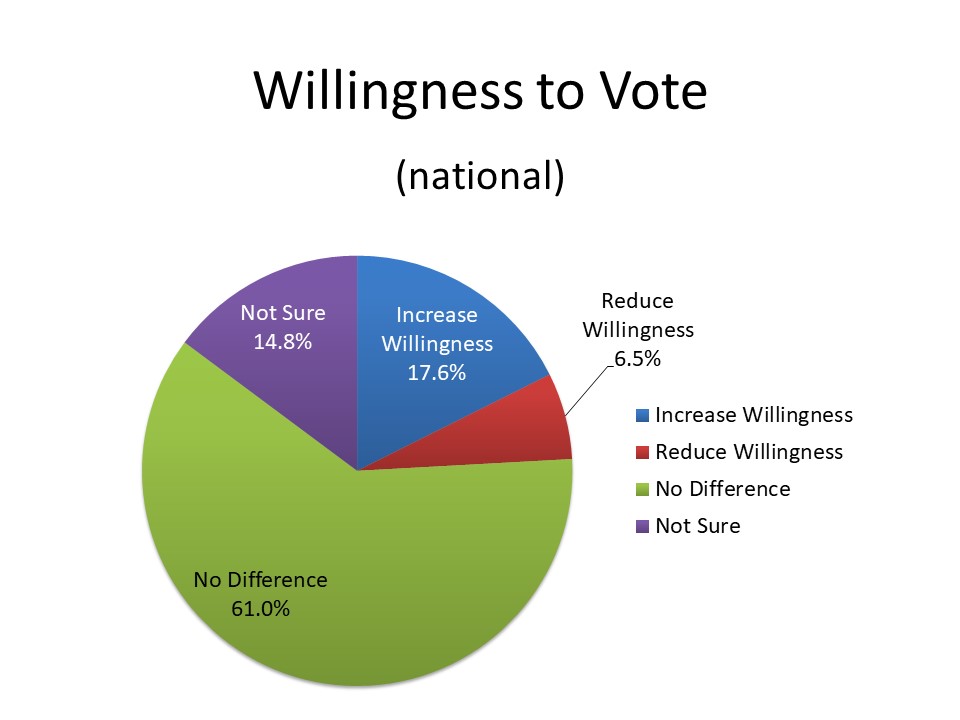 RAND data also shows having the Negative Vote option will increase willingness to vote among
--Younger (relative to older) voters
--Non-Hispanic Black voters (relative to non- Hispanic whites),
while no group is significantly less likely to vote than any other group with a negative vote option.
These survey results validate and reinforce the value of Negative Vote as advocated by NVA. In the ion of U.N. Secretary General, voting AGAINST a candidate is an accepted option. This option should be adopted as a basic right for ordinary citizens in the ion of their leaders as well
*Negative Vote Association is a non-partisan NGO dedicated to the improvement of democracy. We believe people should have the choice to vote NO as a fundamental right. We believe having this option will improve all democracies and can reduce the influence of extremists.
Most people would agree voluntary increase in voter participation is an important improvement for democracy. Furthermore, when there is a tight race, even a small increase in voter participation may alter the outcome of the election. We therefore also believe that because current election systems do not allow voters the option to vote NO, societies may have elected and will continue to elect the "wrong" persons office. Polling research can prove this and we urge all pollster organizations include the Negative Vote option in their future polls, especially where races are tight.
Denying voters the option to vote NO has probably led to wrong persons being elected around the world every day in close contests.
Harvard Professor Lawrence Lessig supports this simple and powerful reform proposal for democracy. George Leef has also advocated this reform. A citizens' initiative was filed in 2020 to seek implementation in El Cerrito, CA. Signature collection was stopped dur to COVID-19.
We do not advocate voters should vote NO but rather voters should have this option as a fundamental right.
First Past the Post ("FPTP"), Ranked Choice Voting ("RCV"), Proportional Representation, Approval Voting all can, and need to be improved by incorporating the option to vote Against.
**For the third time in the United States, an election survey has included questions to measure the potential impact of Negative Vote. Respondents are asked to imagine if each voter can cast an AGAINST vote instead of FOR, how they might vote. Each voter still has only one vote. The AGAINST vote is counted as minus one and is called a Negative Vote. The survey was carried out by RAND Corp. with the American Life Panel.
The survey was fielded October 5-October 20, 2020, valid sample respondents were 2,274 (3,401 invitations were sent but the survey was closed at the final target sample size of 2300). Margin of error is [+/-1.9%]. Swing state results (N=669).
The questions related to Negative Vote were sponsored by the Negative Vote Association. The American Life Panel is a nationally representative Internet panel, recruited using random-digit dial and address-based sampling. Survey weights were used in the analyses. RAND provides laptops and/or Internet service to respondents if needed.
For a more complete explanation, see this 10-minute presentation made at the World Forum for Democracy, Nov. 2017.
#BalancedBallot #NegativeVote
Contact
Sam CHANG, President
Negative Vote Association
+886 2 2709 0252
https://www.negativevote.org/news/pid_1.html?lang=en