NVA Press Release - If Americans can vote NO
2016.09.06
If Americans can vote NO
NVA Press Release 2016.09.06
Clinton would only receive 6.7% net positive votes and Trump would have more votes AGAINST him than FOR him.
For the first time in the United States, an election survey has included questions to measure the potential impact of Negative Vote. Respondents are asked to image if each voter can cast an AGAINST vote instead of just FOR, how they might vote. Each voter still has only one vote. The AGAINST vote is counted as minus one and is called a Negative Vote. The survey was carried out by RAND Corp. in its 2016 RAND Presidential Election Panel Survey (PEPS) with the American Life Panel. The questions related to Negative Vote were sponsored by the Negative Vote Association. The American Life Panel is a nationally representative Internet panel, recruited using random-digit dial and address-based sampling. RAND provides laptops and/or Internet service to respondents if needed. The survey was fielded July 25-August 25, 2016, valid sample respondents were 2,601 (of a possible 3,079). Margin of error is +/-1.6%.
The survey results clearly established that voter participation will increase when voters have the option to vote NO.
16.6% of respondents reported zero intention of voting in the presidential election. When voters are given the option to cast a negative vote, 12.2% report no intention of voting. This is a statistically significant reduction in nonvoting (of 4.4 percentage points).
Without the option to vote AGAINST, the survey showed Cln leading with 38.2%, Trump 27.0%, Others 8.6%, Note Sure 9.9%, Will Not Vote 16.6%.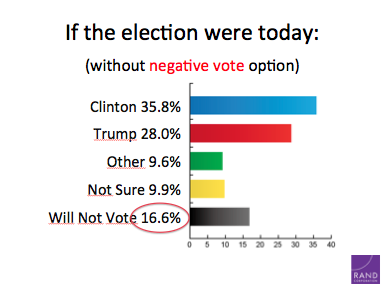 The numbers are dramatically different when voters are given the option to vote AGAINST.
Cln's FOR votes drop to 19.2% and, in addition she has 12.5% AGAINST her, i.e. her net positive votes would be only 6.7%.
Trump's FOR votes drop to 16.6% and has 18.4% AGAINST him, i.e. a net Negative of 1.8%. Others FOR 6.6%, Against 4.5%. Not Sure 10.0%. Will Not Vote 12.2%.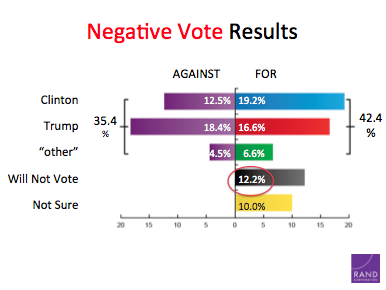 We also asked voters: "Would having the "Negative Vote" option affect your willingness to vote?" As expected, most voters 49.0% reported it would make no difference, but a very high 26.0% reported it would increase their willingness to vote, while a small 6.2% reported having this choice will reduce their willingness to vote. 18.8% said not sure.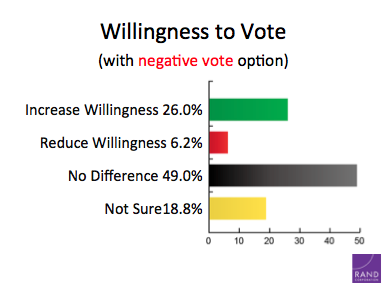 We also asked voters whether they would approve having this option. We are encouraged that even though Negative Vote is a new concept and most people have not heard our explanation of its merits, the survey results showed 37.1% are in favour of having this option vs. 28.2% against. This is consistent with our belief that people will see this as a basic right.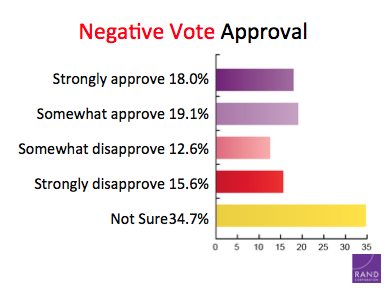 Negative Vote Association is a non-partisan NGO dedicated to the improvement of democracy. We believe people should have the choice to vote NO as a fundamental right. We believe having this option will improve all democracies and can reduce the influence of extremists.
Three Gallup surveys we commissioned in Taiwan plus this first survey by RAND Corp. in U.S. all confirmed voter participation will increase when voters have this option.
Most people would agree voluntary increase in voter participation is an important improvement for democracy. Furthermore, when there is a tight race, even a small increase in voter participation may alter the outcome of the election. We therefore also believe that because current election systems do not allow voters the option to vote NO, societies may have elected and will continue to elect the "wrong" persons office. Polling research can prove this and we urge all pollster organizations include the Negative Vote option in their future polls, especially where races are tight. We suggest for example the following races for U.S. Senate seats: Nevada, Pennsylvania, and Vermont; and the gubernatorial races in Missouri, North Carolina, and West Virginia.
Here is an illustration of how Negative Vote might impact a two-person race:
Under current system
A 34
B 33

A wins and proudly proclaims majority mandate. What if the reality is that there are 10 other voters who chose not to vote because they dislike both candidates and refuse to vote for either one against their conscience? Having the Negative Vote option will bring some of them out. Suppose 5 did:

A +34 -4 (net 30)
B +33 -1 (net 32)

B wins and must admit (s)he does NOT have majority support, even though (s)he won in a two-candidate race! A humbler winner in a two-person race( or any other race) is also good for democracy. More voters participated and clearer messages are delivered. A's winning the election with fewer participation also means the wrong person got elected. Similar simple math illustrations can be constructed with 3 or more candidates. Denying people the option to vote NO has probably led to wrong persons being elected around the world every day in close contests.
We are not advocating voters should vote NO but rather voters should have this option as a fundamental right.

Contact
Sam CHANG, President
Negative Vote Association
+886 2 2709 025
SaveSaveSaveSaveSaveSaveSaveSaveSaveSave